CannaSpyglass Partners with the Oklahoma Cannabis Industry Association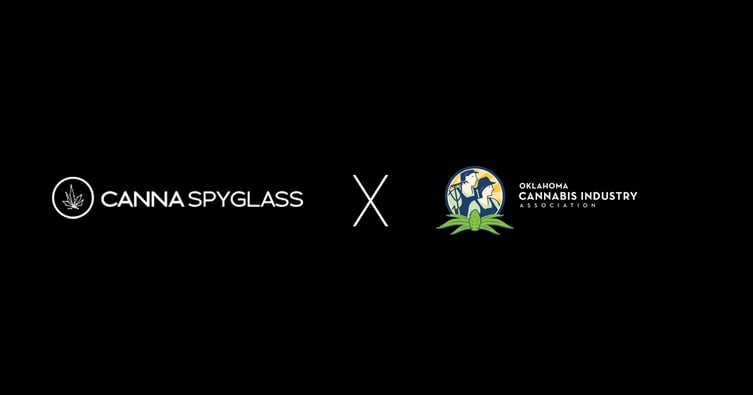 Oklahoma City, OK, August 14, 2023 - CannaSpyglass is excited to announce a new partnership agreement with the Oklahoma Cannabis Industry Association (OCIA). Under this new partnership, the OCIA will leverage CannaSpyglass' industry-leading cannabis company contact data to find new members and market its roster of events. CannaSpyglass will continue strengthening its presence in the Oklahoma cannabis market by committing to OCIA events, including the upcoming OCIA Business Growth Summit in October.
"This partnership is mutually beneficial because of our shared focus on the continued development of the Oklahoma cannabis market and community," said Warren Bunch, Founder of CannaSpyglass.
Why does this partnership matter?
CannaSpyglass' network of partners includes media publications, ancillary businesses, and related industry associations committed to improving the cannabis industry. The partner network has been expanding rapidly over the past year, and CannaSpyglass is currently accepting applications from interested organizations who want to join the program.
OCIA has become one of the prominent members of this partnership program due to its dedication to supporting and advocating for the cannabis sector in Oklahoma. The OCIA promotes responsible business practices, encourages professional development, and ensures a sustainable and thriving industry by working closely with lawmakers, regulators, and other industry stakeholders.
About the OCIA Business Growth Summit
The Business Growth Summit is an exclusive networking event for professionals in the cannabis industry, organized annually by the OCIA. The summit features informative learning seminars covering regulatory updates, compliance, and other industry sectors. Attendees can enjoy entertainment, from a premier golf tournament to multiple peer-to-peer mixers. CannaSpyglass is excited about the upcoming event and looks forward to meeting Oklahoma customers, new operators, entrepreneurs, and quality data advocates.
Want to become a CannaSpyglass Partner?
The CannaSpyglass Partnership Program is now accepting inquiries from companies in the cannabis industry who want to collaborate. By joining the program, companies can access valuable cannabis data that can help improve their sales and marketing strategies.
For the latest cannabis industry updates, tools, tips, and details on the CannaSpyglass' partner program, check out www.cannaspyglass.com/resources