CannaSpyglass Makes Waves at NECANN Boston & Lucky Leaf Expo

By
Katharine Baxter
·
2 minute read
Our team at CannaSpyglass finished the first quarter by exhibiting at two consecutive cannabis industry trade shows. We started with NECANN Boston from March 10-12 and ended with the Lucky Leaf Cannabis Expo in Kansas City from March 24-25. Throughout the month, we traveled, networked, and shared our passion for cannabis data analytics.
At both cannabis conferences, we showcased our leading cannabis market data platform, encouraging attendees to interact with the platform and explore its features. Our booth was decorated with our signature pirate branding, complete with gold doubloon candies and, of course, One-Eyed Willie, our company's oldest member.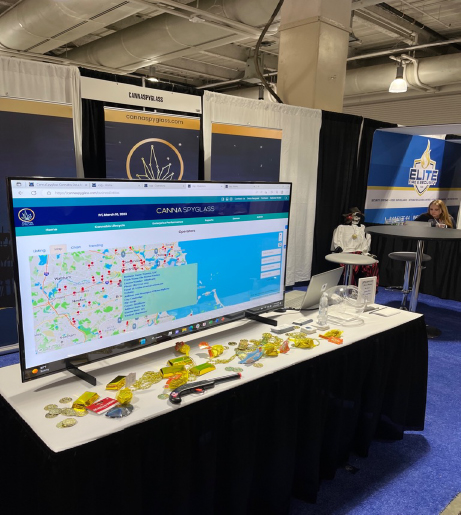 CAPTION: CannaSpyglass' booth demonstrating local operator data at NECANN Boston.
"It's exciting that people are starting to get to know us and the CannaSpyglass brand," said our Founder, Adam Hutchinson, after our recent appearance at NECANN Boston. "There was a lot of buzz around our cannabis data, and we managed to sign up several groups on the trade show floor."
NECANN is the second-largest B2B cannabis industry convention in the United States. This year's conference in Boston featured over 300 exhibitors and more than 100 expert speakers. NECANN hosts multiple trade shows throughout the year and has a full schedule for 2023, with upcoming events in Illinois, New Jersey, New York, and more.
After returning from Boston, our team traveled to Missouri to meet the attendees at the Lucky Leaf Cannabis Expo in Kansas City. Lucky Leaf is proud to offer opportunities for education, networking, and business growth at their events and has additional expos in states such as Mississippi and New Mexico.
"Lucky Leaf was an excellent event for CannaSpyglass," said Founder, Warren Bunch. "We connected with new people and strengthened our existing relationships with operators and vendors."
In addition to introducing attendees to our proprietary cannabis market intelligence tools, we handed out our limited edition CannaSpyglass branded t-shirts in the color of the Kansas City Chiefs to show our love for the city's local team.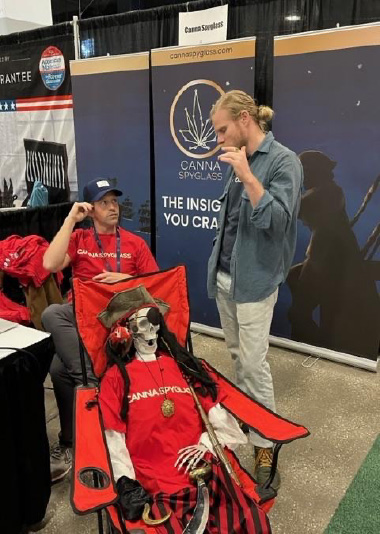 CAPTION: One-Eyed Willie hanging out on the CannaSpyglass booth at Lucky Leaf Cannabis Expo in Kansas City.
"The shirts were a big hit in Kansas City," said Bunch. "We were delighted to share our brand and connect with locals in a way that reflects our love for the region and their sporting teams!"
We will continue to participate in cannabis industry events throughout the year, including Cannabis Conference, the OCIA Business Growth Summit, and MJBizCon. Keep an eye on the CannaSpyglass website to stay up to date on which events you can find us at next!
Why choose CannaSpyglass?
CannaSpyglass offers subscription services that provide dependable, on-demand, and exclusive cannabis industry analytics. Our insights cover vital data on cannabis cultivation, business statistics, and enterprise information within the rapidly growing cannabis sector. Whether you are an established industry leader seeking business expansion or a lawmaker requiring essential research to inform policy, our up-to-date, cloud-based data can be tailored to your specific interests and regions.